YOU(R) SPACES survey - Managing workplace complexity in a new world of work
21 juillet, 2023 / Actualités
---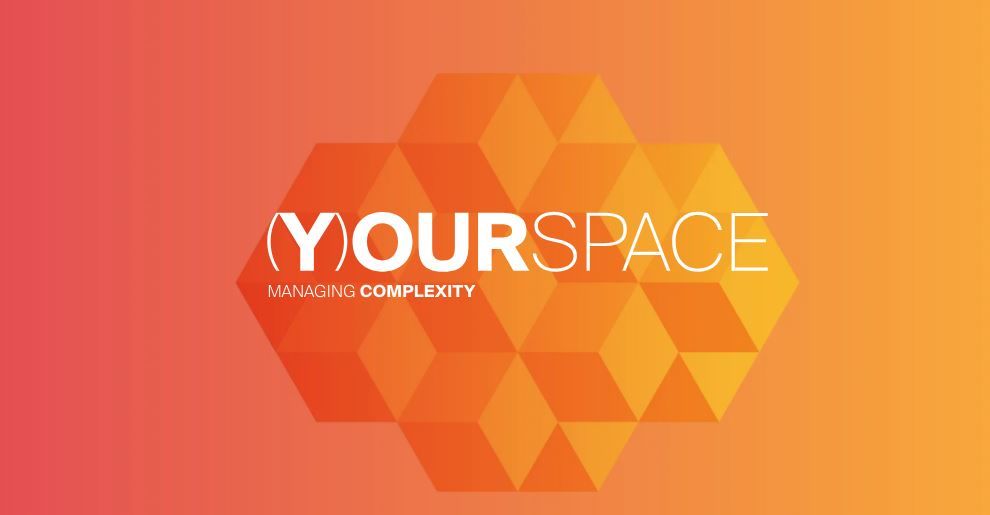 Future workstyles endorse the office
We remain deeply immersed in the great global workplace experiment. Occupiers are trying to figure out their prevailing workstyles and their implications for the design and delivery of legacy and future workplaces. The latest (Y)OUR SPACE survey points to most occupiers adopting future workstyles with offices very much at their heart.
Chief among these future workstyles is hybrid - the mix of formal workplaces with more remote settings and varying degrees of flexibility given to the employee to determine which is most appropriate for the job or task at hand. 56% of all respondents view hybrid as their most likely working style three years from now (Figure 1).
Of course, the devil is in the detail. The term 'hybrid' covers a multitude of arrangements both within and between organisations. To date, 'hybrid' has been easy to say, far less easy to deliver. Delivering 'hybrid' remains challenging for many organisations, particularly regarding scheduling to facilitate effective interaction and collaboration and broader concerns about workplace inclusivity.
60% of all respondents acknowledge that a shift in workstyle represents a 'huge' or 'partial' disruption to the form and function of the future workplace. The challenges of 'hybrid' are manageable - particularly with the greater use of proptech solutions - and are consistent with the core theme of this edition of (Y)OUR SPACE - managing complexity. But we expect the extent of the challenges around 'hybrid' to lead some businesses - particularly given the broader pressures of transformation - to adopt a more office-centric position.
As Figure 1 shows, almost one-third (31%) of occupiers surveyed describe their future workstyles as being either 'office first' or 'office only'. In contrast, despite much trumpeting in the early days of the pandemic, just 12% of occupiers surveyed expect a future workstyle described as 'work from anywhere', 'remote first' or 'fully flexible'. The largest businesses responding to our survey - those employing more than 50,000 people globally - are least likely to adopt this stance.
Three years after renewed suggestions of its death, it seems the office will still have a central role in our working lives, but it will also need to change in respect of its design and delivery.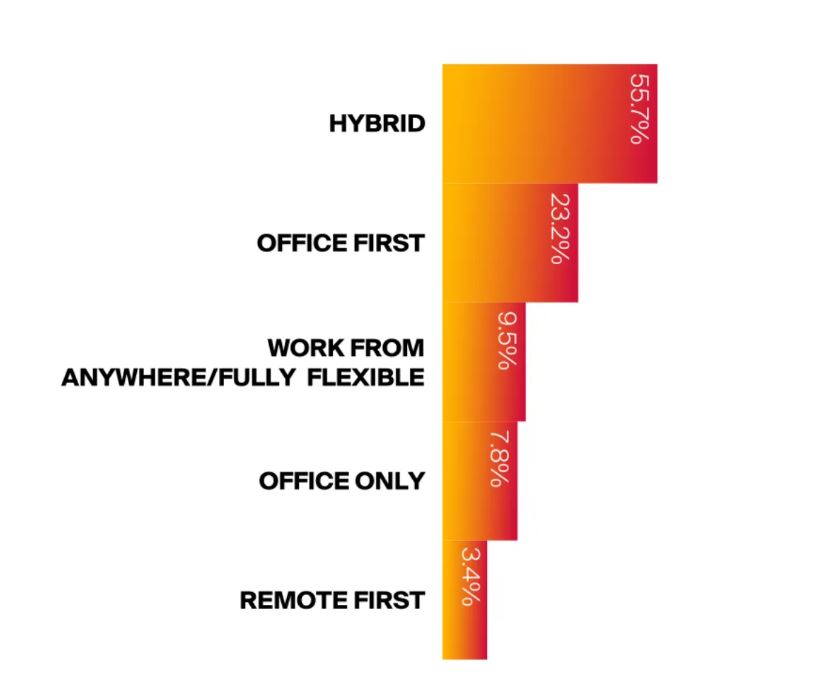 The next emotive workplace issue - hot-desking
Whether 'hybrid' or 'office first', a change in work style does point to a future relationship with the office that is more fluid and flexible. For 6 in 10 survey respondents, the office will be re-designed and re-configured to reflect this. One lever that many organisations expect to pull is that relating to unattributed workstations. Half of all respondents forecast that their organisations will make greater use of desk-sharing or hot-desking programmes over the next three years, with only 10% of those already embracing such programmes expecting to row back from this position (Figure 2).
Although many organisations were already on this journey before Covid, it is clear that it will be a common destination over the next three years as organisations seek to drive financial efficiency in their space and re-configure it to more collaborative and amenity-based settings. Following the debate about a return to office vs continued remote work, the push towards non-allocated seating will likely be the next emotive issue in the discussion.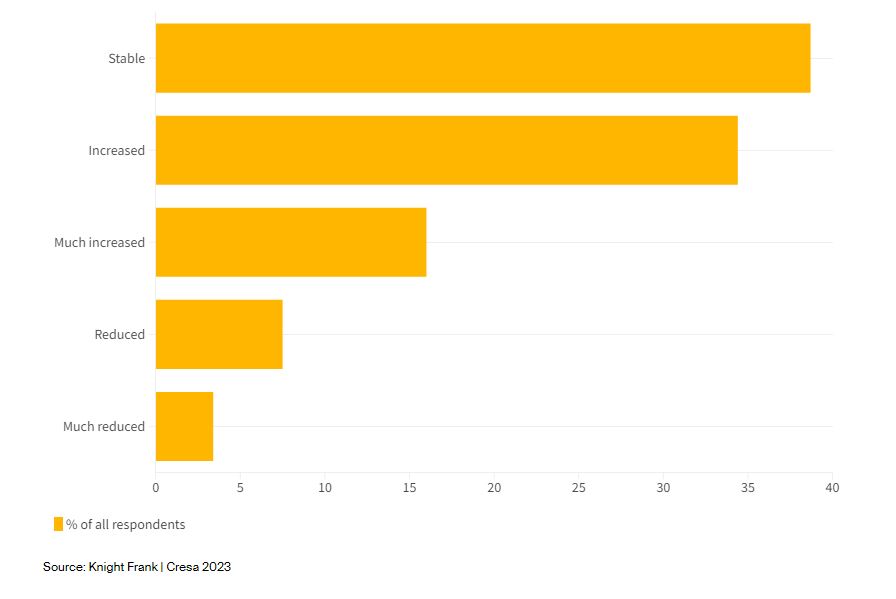 Densification, utilisation and experience
(Y)OUR SPACE data also points to a changing perspective concerning the density of office occupation. After a period when the de-densification of office space was a natural response to our understanding of the covid virus and its transmission, 44% of survey respondents expect to increase densification over the next three years to drive utilisation rates higher and deliver a more effective return on real estate spend.
This drive to densification is a difficult balance, particularly against the glacial return to office rates evident across most global markets and the ongoing experiment, evaluation, and evolution process. As our quarterly Global Corporate Real Estate Sentiment Index has consistently shown, since its inception in Q1 2022, sentiment is at its weakest regarding a potential return to pre-pandemic occupancy levels. This sentiment is confirmed by the most recent (Y)OUR SPACE findings. Although 44% of respondents foresee an increase in occupancy rates, more respondents (46%) anticipate stability around current levels - typically short of pre-pandemic rates. The timing of the decision to densify occupancy is critical - moving too soon can serve to choke off a sustained return to office pattern by delivering workplace environments and experiences that fail to meet the expectations of those returning.
If the current slow pace of return continues over the long term, two outcomes are likely, particularly given the macroeconomic backdrop. Firstly, the ultimate resetting of the quantum of space required by an organisation. This resetting will require occupiers' tactical use of lease events throughout the next cycle. Secondly, and often alongside the resetting of quantum, the greater allocation of total floor space to amenity and collaborative settings (within and outside an occupier's demise) to deliver a revised strategic purpose to the office.
Evolving the flight to quality and amenities
So the recent trend of occupiers taking 'flight to quality' will continue. Almost 200 respondents to (Y)OUR SPACE expect an increase in the quality of space found in their portfolio over the next three years, with a further 40% predicting stability in the quality of the space they occupy.
The conflation between quality and amenity continues. 45% of respondents expect an increase in amenity provision in and around their workplaces, and more than half anticipate stability. The array of amenities employees seek remains wide, but well-being is in focus. The top 8 amenity needs shown in Figure 4 have well-being at their heart. These needs reflect what we regard as the evolution of the well-being agenda. Many of the top 8 amenities support established notions of physical well-being, but it is encouraging to see that those amenities supporting mental well-being - sanctuary rooms, access to fresh air, quiet reflection spaces - which we have been endorsing since the first edition of (Y)OUR SPACE, are now high up the amenity wish list. This elevated position reflects growing concerns about mental health in the workplace and the increasing expectation that this is as much a concern for employers as employees. Good mental well-being is essential for productivity, so employers' concerns go well beyond altruism or compassion - they have an economic imperative.
There is also an emergent third phase of well-being, focused on personal growth and development. Again, it is encouraging that one-quarter of all respondents identified 'educational facilities and programmes' as a future amenity need. As businesses grapple with next-wave technology and its impact on job and skill requirements, they must upskill and reskill staff as a commercial imperative. But this corporate need aligns with the employee's desire for growth and professional development. Watch out for educational amenities - library spaces, classrooms, conference spaces, auditoriums and informal or formal events programmes - all becoming a critical aspect of the future office experience.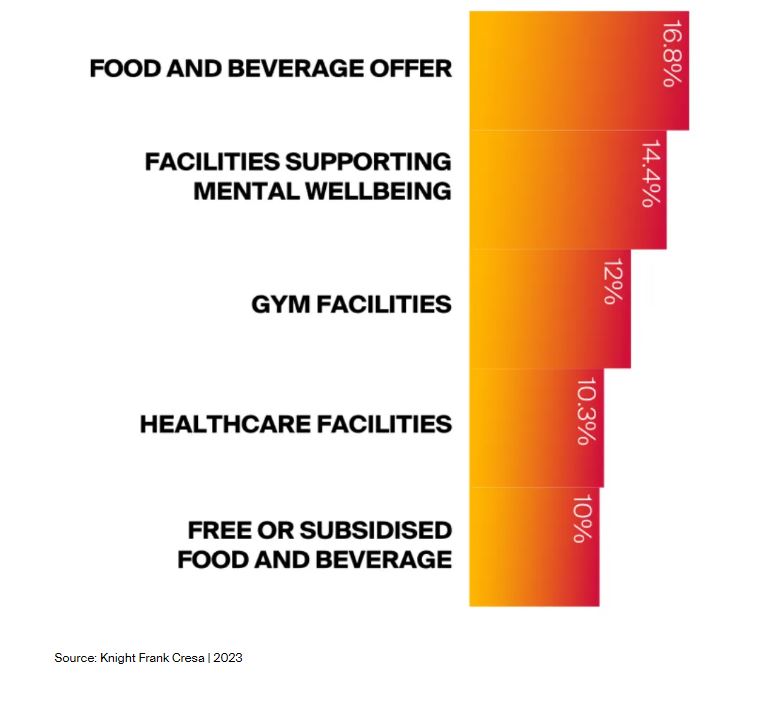 ---
---